MAST (Maritime / Air Systems and Technologies) is a biennial international arms exhibition and conference for the arms industry and navy. From 21 to June 23 will be held the MAST arms fair in the RAI in Amsterdam. Partly at the invitation of the Royal Navy war criminals and human rights violators are coming to Amsterdam despite calls by the European Parliament for an arms embargo against Saudi Arabia, and calls on the Dutch Parliament not to provide any arms exports to the country. Stop Arms Trade wrote to the MPs by the motion

Arms Industry not welcome in Amsterdam!
Come with your banner and horn on Wednesday June 22 at 7 pm at the main entrance of the RAI protest at the party.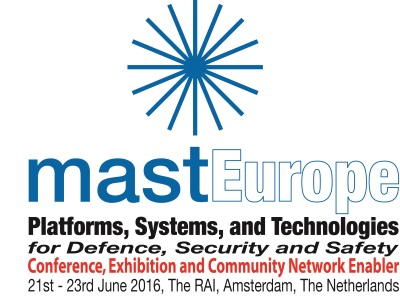 MAST is an international exhibition and conference series about Maritime Security specialising in platforms, systems and technologies for defence, security and safety. An excellent opportunity to meet global experts, industry leaders, and influential government and procurement representatives from around the world to discuss future naval capabilities and requirements. MAST boosts networking with numerous social functions, offers ship visits and allows exhibitors to meet their high level prospects through a subtle Hosted VIP programme.
http://www.stopwapenhandel.org/sites/stopwapenhandel.org/files/Brief%20MAST%20Kamer.pdf
Mede op uitnodiging van de Koninklijke Marine is op de MAST wapenbeurs onder meer een delegatie van Saoedi-Arabië te gast ondanks oproep door het Europees Parlement tot een wapenembargo tegen Saoedi-Arabië en oproep van het Nederlands Parlement om geen wapenexportvergunningen naar het land te verstrekken. Stop Wapenhandel schreef een brief aan de Kamerleden die de motie
MAST (Maritime/Air Systems and Technologies) is een tweejaarlijkse internationale wapenbeurs en conferentie voor wapenindustrie en marine. Van 21 tot en met 23 juni wordt de MAST wapenbeurs in de RAI in Amsterdam gehouden. Mede op uitnodiging van de Koninklijke Marine komen oorlogsmisdadigers en mensenrechtenschenders naar Amsterdam.
Bijvoorbeeld de landen die oorlog voeren en mensenrechten schenden in Jemen: Saoedi-Arabië, Bahrein, Qatar, Koeweit en de VAE. Ook uitgenodigd is Turkije, druk bezig zijn eigen Koerdische bevolking met bommen te bestoken. Net als andere deelnemende landen heeft het wapens geleverd voor de oorlog in Syrië. Delegaties van militaire regimes (bv Thailand) en landen in gewapend intern conflict (bv Filipijnen) staan eveneens op de gastenlijst.
Zij kunnen op deze beurs contacten leggen met veel dubieuze wapenbedrijven. Zoals Textron, een producent van internationaal verboden clustermunitie. En het Duitse ThyssenKrupp, leverancier van nieuwe onderzeeërs voor de Israëlische marine, geschikt voor het gebruik van kernwapens. Ook andere kernwapenbedrijven zullen aanwezig zijn. Verder zullen de kandidaten voor de peperdure, overbodige nieuwe Nederlandse onderzeeërs ('de nieuwe JSF') zichzelf presenteren.
AMSTERDAM
De gemeente Amsterdam heeft zich meerdere malen uitgesproken tegen wapenbeurzen binnen de gemeentegrenzen. Het daadwerkelijk verbannen van dergelijke bijeenkomsten is niet mogelijk. Gek genoeg is de gemeente wel voor 25% aandeelhouder in de eigenaar van de RAI.
JEMEN UNDER SIEGE, LET'S PARTY ON THE BEACH??
Wapens verhandelen en oorlog voorbereiden is natuurlijk vermoeiend werk. Daarom organiseert MAST een speciale 'Bonaire Beach Party' op de avond van woensdag 22 juni. Wij vinden deze wapenbeurs geen reden voor feest.
Wapenindustrie niet welkom in Amsterdam!
Kom met je spandoek en toeter op woensdagavond 22 juni om 7 uur naar de hoofdingang van de RAI voor protest bij de party.

http://www.trouw.nl/tr/nl/4324/Nieuws/article/detail/4324561/2016/06/21/Geen-wapendeals-met-schenders-mensenrechten.dhtml